Volvo XC90
Manufacturer
Volvo
Production
2003–present
Assembly
Torslanda, Sweden

Samutprakarn, Thailand[1] Shah Alam, Malaysia[2]

Jakarta, Indonesia (Indobuana Autoraya)
Engine(s)
2.5 L 210 hp turbocharged I5

2.9 L 272 hp I6 3.2 L 238 hp I6 4.4 L 315 hp V8

2.4 L 185 hp (163 hp) Diesel I5
Wheelbase
2003–04 & 2007–present: 2,857 mm (112.5 in) 2005–06: 2,859 mm (112.6 in)
Width
2003–06: 4,821 mm (189.8 in) 2007–present: 4807 mm (189.3 in)
Height
1784 mm (70.2 in)
Curb weight
1909 mm (74.7 in)
Jeremy drives a XC90 and described it as a faithful old Labrador.
Winter Olympics Biathlon
Edit
In the Winter Olympics Special it took part in a Biathlon. Clarkson drove it madly and could only catch up with James when he crashed and when he had to fold the seats down he had to phone his wife to work out how to do it, despite this it was neck and neck but James got ahead at the last miniute in his Audi Q7.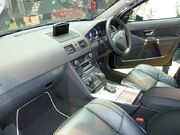 Ad blocker interference detected!
Wikia is a free-to-use site that makes money from advertising. We have a modified experience for viewers using ad blockers

Wikia is not accessible if you've made further modifications. Remove the custom ad blocker rule(s) and the page will load as expected.