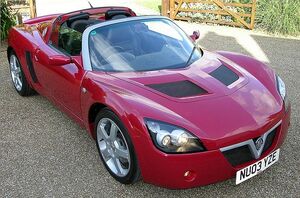 The Vauxhall VX220 was a targa-topped sports car manufactured by the Luton-based company Vauxhall, usually associated with dull, family cars. It was, however, built at the Lotus plant in Hethel, Norfolk. In most of Europe it was the Opel Speedster, but in Asia it was the Daewoo Speedster. Production lasted from 2000-2005. A turbocharged version was also produced, with a 2.0 l 4 cylinder ecoboost engine instead of the standard 2.2l.
Ad blocker interference detected!
Wikia is a free-to-use site that makes money from advertising. We have a modified experience for viewers using ad blockers

Wikia is not accessible if you've made further modifications. Remove the custom ad blocker rule(s) and the page will load as expected.