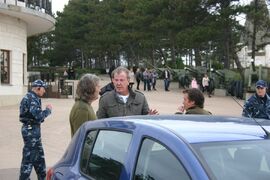 The
Ukraine Road Trip
was a road trip featured in the third episode of Top Gear's twenty first series. The feature saw the show's three presenters take three of the latest hatch backs on a trip across Ukraine, from Sevastopol in Crimea (in 2014 Crimea was annexed by Russia) up to Ukraine's capital city, Kiev and then to the country's Belarusian border. James completed the journey in a Dacia Sandero, Jeremy in a VW up!, and Richard drove in a Ford Fiesta. The road trip also saw the presenters journey through Ukraine's radioactive exclusion zone including the border towns of Chernobyl and Pripyat.
More to come...
Ad blocker interference detected!
Wikia is a free-to-use site that makes money from advertising. We have a modified experience for viewers using ad blockers

Wikia is not accessible if you've made further modifications. Remove the custom ad blocker rule(s) and the page will load as expected.