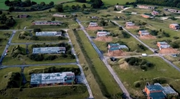 Trefniadaeth Seilwaith Amddiffyn Man Hyfforddi Caerwent 
is an abandoned army base in Wales and was the location of the final challenge in Top Gear's 80s hot hatches test. The challenge saw the presenters attempting to evade the
Top Gear Police Department
, in their hot hatches, for as long as possible.
It was the hardest place to pronounce as it was Welsh for Defence Infrastructure Organisation Caerwent Training Area.
Ad blocker interference detected!
Wikia is a free-to-use site that makes money from advertising. We have a modified experience for viewers using ad blockers

Wikia is not accessible if you've made further modifications. Remove the custom ad blocker rule(s) and the page will load as expected.