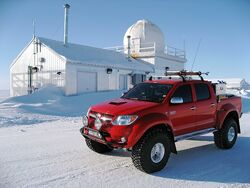 The
Toyota Hilux
are a series of compact pickup trucks made by
Toyota
. They have been produced since 1968, and in that time, there have been seven generations.
North Pole Challenge
Edit
A Hilux modified by Icelandic company Arctic Trucks (pictured) was featured in the North Pole challenge, driven by Clarkson with May as co-driver. In the race against Hammond with a dog sled team, the Hilux got to the North Pole first.
Clarkson set out to prove that Hiluxes are the toughest vehicles in the world. Obtaining a 1988 diesel Hilux with 305,775 km (190,000 mi) on the odometer, he drove it down a flight of stairs, sideswiped buildings, and crashed it headlong into a tree.
Clarkson then tethered it to a slipway into the sea - at low tide. When the tide rose, the vehicle was drowned and the windscreen was washed out and lost. The tethers then broke, and later that night (when the tide went out) the truck was found half-buried in sand. It was then dragged out and cleaned of sand. The whole car was thoroughly soaked, but despite a flooded engine it drove off. (A mechanic was permitted to work on it, but only using a basic tool kit and no replacement parts.)
The Hilux was then taken to the Top Gear Test Track, and it was driven through the 'Top Gear Production Office'; basically a wooden shed with a single door and window. The truck was unharmed. After having a caravan dropped onto it (still no effect), it was hit with a wrecking ball, which merely buckled the rear loadbed. As night drew in, Clarkson decided that the only way to destroy the truck was with fire. The Hilux was scorched, but still entirely driveable.
Indestructible Hilux, Part 2 (Series 3, Episode 6)
Edit
After Clarkson's failed attempt to obliterate the Top Gear Hilux, May stepped in to lend a helping hand. He decided to hoist the truck to the top of a block of flats that were soon to be demolished. The explosives were set off, and the Hilux disappeared into the resultant dust-cloud.
Luckily, the Hilux had not been entirely buried in the rubble; however, it was bent and broken almost out of recognition. It was pulled off the top of the pile by a digger, and set on its wheels. The mechanic from the first part of the challenge returned to do what he could. Amazingly, after all that it had gone through, the mighty Toyota Hilux's engine started. Not only that, but it was still capable of driving.
The Icelandic Volcano
Edit
May took a Hilux used by the camera crew during the North Pole challenge and attempted to drive up the Eyjafjallajökull, also known as the "unpronouncable mountain". He fitted it with a corrugated roof to protect from falling lava, and got very close to the center of the volcano, in fact only a few meters away.