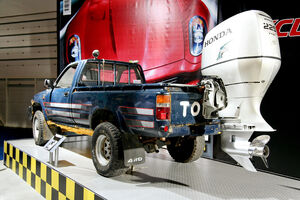 The
Toybota
was
Clarkson
's first attempt at an amphi-car. The name comes from
Toyota
. The Toybota was originally a
Toyota Hilux
which
Top Gear
earlier proved indestructible, when they placed it on the roof of a block of flats that was later demolished.
The Hilux
managed to drive away afterwards.
The Toybota was relatively simple. You had a normal car engine to get you around and then when you went into water you simply climbed into the back and turned on the taps with the massive Honda outboard engine mounted on the back of the pickup.
Specifications
Edit
There were a few things that had to be done before it was sea-worthy.
A hull was made at the front of the car (this meant taking the bullbar off, which involved a fire that refused to be extinguished).
Either locking off the suspension or fitting solid shock absorbers.
Painting the back so it reads 'Toybota' instead of 'Toyota' (not entirely neccesary).
Challenge
Edit
After rescuing Hammond from his sinking Dampervan, Jeremy managed to beat James on his Triumph Herald to the finish point but capsized when he sharply turned towards the jetty. Then, just to add to Clarkson's fustration, James reversed his Herald out and won.