Not to be confused with Top Gear USA.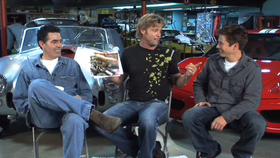 Top Gear USA on NBC was a planned American adaption of the popular British TV car show, Top Gear. The show was officially announced by NBC in 2008, and was supposed to be hosted by Adam Carolla, Eric Stromer and Tanner Foust.
Only one episode was filmed, but the show never premiered, because of the failure of NBC's Knight Rider TV show, causing the broadcaster to not broadcast any car-related shows.
In 2010, the American broadcaster History decided to make the American version of Top Gear, with hosts Adam Ferrara, Rutledge Wood and Tanner Foust. Tanner was the only one who survived the move.
The format is extremely similar to Top Gear UK's and the first season of Top Gear USA (History version). There was a car review, Stig laps, then a news segment, then a challenge segment and a Star in a Reasonably-Priced Car segment.
Only 1 episode was filmed for this show. Filming took place at June 26, 2008 at Los Angeles, U.S.A.
Car Review(s)
Edit
On that episode, the Aston Martin DB9 and a Porsche 911 GT3 were reviewed, and The Stig set drove them a set a lap-time. The Stig was introduced similarly to the UK version, and The Stig arrived in a C-130 transport aircraft, and drove out in an Ariel Atom.
There was a news segment as well.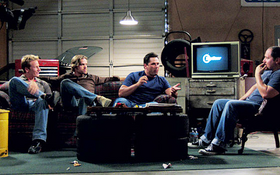 Star in a Reasonably Priced Car
Edit
Just like international Top Gear, a Star in a Reasonably-Priced Car segment was present. The guest was David Hasselhoff, and he drove around the test track after a brief chat. Unlike other adaptions, all the hosts were present with the celebrity.
Challenge
Edit
The three presenters were challenged to get a cheap car, under $5000 and we put through a series of challenges. The first challenge was the "Tunnel of Trash", in which they had to drive straight through a tunnel made from items without holding the steering wheel and they should not crash. Secondly, they were allowed to modify their cars and take it across Death Valley. Most of the challenges were re-used for the History adaption of Top Gear USA.