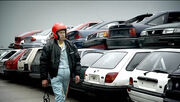 Top Gear Stuntman first appeared in the first episode of Series 11. in a challenge to jump an Austin Allegro backwards over a row of cars, therefore making a world record. It turns out that he set a World Record, but only because there wasn't one to start with.
He later attempted to recreate the famous James Bond sequence in which a car makes a complete barrel roll from one jump to another. He climbed into a strengthened MG Metro, but failed to make a successful jump; he rolled the Metro several times. This challenge was revisited in the TopGear: At The Movies Christmas DVD and, in another Metro, TG Stunt Man managed to land it - partly on the car's rear end.
He was introduced by James May and he was also the one who talked the viewers through the challenge.
Ad blocker interference detected!
Wikia is a free-to-use site that makes money from advertising. We have a modified experience for viewers using ad blockers

Wikia is not accessible if you've made further modifications. Remove the custom ad blocker rule(s) and the page will load as expected.