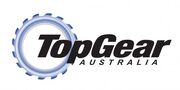 Top Gear Australia (or simply T.G.A.) was an Australian adaptation of the BBC's car show Top Gear which ran from 2008 to 2011; it was the first international adaptation of the show ever made. It originally premiered on SBS ONE but later moved to Channel 9. Top Gear Australia originally premiered on the 29th of September 2008 on SBS ONE with final episode airing on Channel Nine on the 13th of September 2011. Top Gear Australia is also the name of the Australian Top Gear Magazine.
Presenters
Edit
Main article: Presenters of Top Gear Australia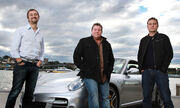 Throughout its history on television, TGA had 6 presenters. Steve Pizzati is the only presenter who has been in every season of TGA. In the first season Charlie Cox, Warren Brown, and Steve Pizzati were the presenting team. In the second season Charlie Cox was replaced with James Morrison. Finally, in the third season both James Morrison and Warren Brown were replaced with Ewen Page and Shane Jacobson. The same presenting team returned for the fourth season of Top Gear Australia.
Star in a Bog Standard Car
Edit
The 'Star in a Bog Standard Car' is a mirrored segment of the 'Star in a Reasonably Priced Car' featured in the British Top Gear. Whilst on SBS, the car used for the segment was a Proton Satria Neo. However, since its move to Channel 9 the car has been changed to a Ford Falcon Ute. The Falcon Ute returned as the 'bog standard car' in the fourth season.
Like all the other international versions of Top Gear, TGA has it's own Stig. However, the Stig is simply refered to as the Stig as opposed to the Stig's Australian Cousin or Aussie Stig. The Stig has the same role as he (or she) does in the British version of Top Gear.
Cancellation
Edit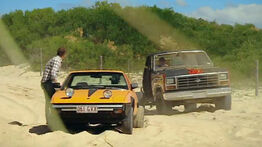 In 2011, one day after the premiere of the third episode of Top Gear Australia's fourth season Channel Nine officially cancelled the show due to poor ratings. The remaining three episodes of the shows fourth season never went to air and were eventually released on DVD. The show has, as of yet, not been renewed or picked up by another network.