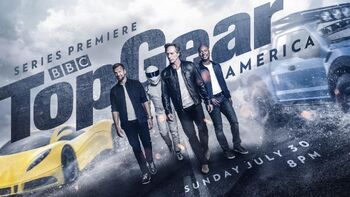 Top Gear America is the second American adaptation of the UK motoring series Top Gear which airs on the BBC. Top Gear America premiered on BBC America on July 30, 2017. The show is presented by William Fichtner, Antron Brown, and Tom Ford. The first series of the show contained eight episodes. Top Gear America is the second American iteration of the original BBC show, following the cancellation of History's Top Gear adaptation featuring Tanner Foust, Rutledge Wood, and Adam Ferrara. A second series has not yet been commissioned.
The show will feature, according to Top Gear's official website, the new presenters taking on the US's NASCAR series, Mexico's Baja rally, a stunt driving challenge, and a campervan adventure, amongst other features. The show will also feature an American-incarnation of the Stig.
The studio where the main portion with the audience is filmed is located in Las Vegas, Nevada with the studio directly next to the test track, allowing the celebrity guests to drive their vehicles in and out to the track.
Episodes
Edit
| Title | Film(s) | Review(s) |
| --- | --- | --- |
| American Made | The guys head to Mexico for a bonding road-trip to the U.S. border in three Baja buggies | Ford F-150 Raptor, Honda NSX |
| Movie Magic | The guys explore some of the tricks of the Hollywood movie trade. Bill drives Steve McQueen's famous Mustang from Bullitt. | Lamborghini Huracan |
| Life On The Go | The guys each choose a campervan for a road trip across the deserts of the U.S. | None |
| Drive Your Life | Antron teaches Wookie how to drive hot roads in the pits of the NHRA. | Cadillac CTS-V |
| Humble Beginnings | The guys pay homage to the origins of NASCAR by hitting a track near its birthplace in three old muscle cars. | Audi R8 |
| Outside The Box | In the hills of Southern California, the guys test a new breed of cars called UTVs, including the BAC Mono. | None |
| The Best | The guys each buy what, in their opinion, is the best sports car for under $7,000. | None |
| Time Capsule | The guys revisit their past to share their first automotive love. | None |
Ad blocker interference detected!
Wikia is a free-to-use site that makes money from advertising. We have a modified experience for viewers using ad blockers

Wikia is not accessible if you've made further modifications. Remove the custom ad blocker rule(s) and the page will load as expected.