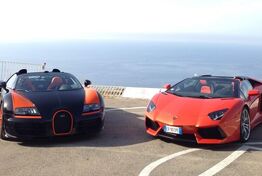 Top Gear: The Perfect Road Trip is a direct-to-DVD special episode of the British automotive show Top Gear, never airing on television. Unlike normal episodes of the show James May, one of the three presenters of the show, did not appear in the episode; only Jeremy Clarkson and Richard Hammond featured in the episode.
The Perfect Road Trip was filmed in August 2013 and was released first on iTunes and then on DVD in November 2013. The special saw Richard Hammond and Jeremy Clarkson driving across Italy and France in the some of the greatest cars ever made. The duo rode from Monaco to Nogaro, testing out some of the latest supercars along the way. The pair were first seen filming for the DVD in Monaco in August 2013 with a Bugatti Veyron Vitesse and a Lamborghini Aventador Roadster.
The DVD is the latest of the annual Top Gear DVDs following Top Gear: The Worst Car in the History of the World, Top Gear: At the Movies, and Top Gear: Apocalypse. The Perfect Road Trip is not to be confused with the Burma Special, which is the annual Christmas special for the show and aired on TV in March 2014.
Ad blocker interference detected!
Wikia is a free-to-use site that makes money from advertising. We have a modified experience for viewers using ad blockers

Wikia is not accessible if you've made further modifications. Remove the custom ad blocker rule(s) and the page will load as expected.