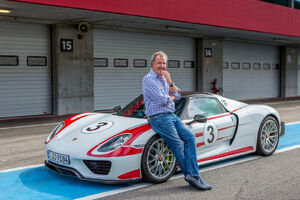 The first episode of the Amazon Prime motoring show The Grand Tour, featuring ex-Top Gear presenters Jeremy Clarkson, Richard Hammond, and James May, premiered on the 18th of November, 2016. It is entitled The Holy Trinity. Filming for the studio segments of the episode took place in Southern California in September of 2016.
Synopsis
Edit
The guys head to the Portimao Circuit for the long-awaited 'holy trinity' three-way shootout, as they hit the track with Clarkson in the McLaren P1, Hammond in the Porsche 918 Spyder and May in the Ferrari LaFerrari at the same time. Also Clarkson introduces their new track, "the Eboladrome" using a Ferrari 488 GTB before testing a BMW M2 on the track, which is then taken round by their new test driver, "The American". They also introduce their News Section "Conversation Street" and "Celebrity Brain Crash".
Celebrity Brain Crash
Edit
The guests for the first episode were Jeremy Renner, Armie Hammer, and Carol Vorderman. Renner was 'killed' after parachuting out of an airplane and failing to deploy his parachute, Hammer was 'killed' by a rattlesnake, and Vorderman was already 'dead' inside the tent.
Tent Location
Edit
The tent for this episode was pitched in Southern California, USA. More specifically, the tent was set-up in the High Deserts of California near Los Angeles.
Ad blocker interference detected!
Wikia is a free-to-use site that makes money from advertising. We have a modified experience for viewers using ad blockers

Wikia is not accessible if you've made further modifications. Remove the custom ad blocker rule(s) and the page will load as expected.