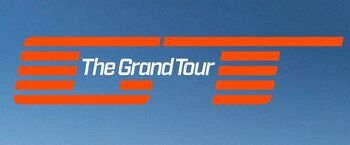 The Grand Tour is a motoring show on Amazon Prime featuring ex-Top Gear presenters Jeremy Clarkson, Richard Hammond, and James May. The show's executive producer, Andy Wilman, also moved from Top Gear to work on the new show. The Grand Tour was officially announced on the 30th of July, 2015, after months of speculation, by the online streaming service Amazon Prime. It was revealed that the trio had signed on for thirty-sex episodes over three series of the show, the first of which began on the 18th of November, 2016. The show's second series premiered on the 8th of December, 2017. The show's third series is likely to air sometime in 2018.
Production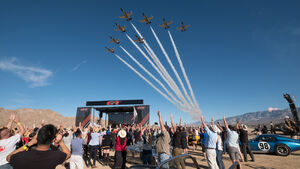 The show officially began filming its first series on the 7th of October, 2015 when Jeremy Clarkson, James May, and Richard Hammond published pictures from their first shoot in Portugal. The first set of studio segments for the show were filmed in July, 2016 in Johannesburg, South Africa. The show has since filmed in the US, the Netherlands, England, Finland, Germany, Scotland, and the United Arab Emirates.
Announcement
Amazon announced that they had signed Clarkson, Hammond, and May for 36 episodes of a new show on the 30th of July, 2015. The show was left untitled for many months with promotional videos being released focussing on the presenters' struggle to come up with a name. However, on the 12th of May, 2016, the name was finally revealed to be 'The Grand Tour', reflecting the worldwide nature of the show. More details about the show were also revealed, most notably that the show's format would closely mimic that of Top Gear, featuring studio segments that were to be recorded in a tent that changes locations in almost every episode.
Incidents
In filming for series 2, Richard Hammond was involved in two separate accidents. The first occurred in Mozambique, where Hammond was knocked unconscious after falling off a motorcycle. The second more serious incident occurred in Switzerland while filming the series 2 premiere. Hammond crashed a Rimac Concept car while competing in a hill-climb event. The car subsequently caught fire and was completely destroyed. Hammond, meanwhile, was hospitalised with a fractured knee. The accident, coupled with Clarkson's pneumonia diagnosis, delayed the second series premiere from October to December.
Seasons
**For a list of episodes, see here**
Series 1
The first series of The Grand Tour is the most recent season of the show, airing from November 2016 to February 2017. The first series featured 13 episodes, which saw the presenters journeying to Namibia for the show's first special, to Portugal for a test of the 'holy trinity' of hypercars, heading across Morocco in three roadsters, attempting to build an artificial reef using old cars in Barbados, and a grand tour of northern Italy, amongst other items.
Series 2
The second series of The Grand Tour began filming in February 2017 and began airing in December 2017. In an interview with The Sunday Times, it was confirmed that the season will have twelve episodes.  Studio segments for the show began filming in October. The second series will see the presenters testing three supercars in Switzerland, journeying across Mozambique to feed the poor, racing three old Jaguars in Colorado, building an amphibious car, and more.
Colombia Special
Following Clarkson's bout with pneumonia while filming for the show's second season, plans to film a special in Colombia were delayed. Clarkson revealed in an interview that they intended to film the special in January, 2018 instead, meaning it would not air until after the second series had finished as a standalone episode.
Segments
Conversation Street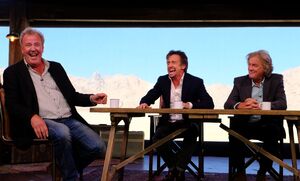 In this segment, usually around 10 to 20 minutes into the show and lasting 5 to 10 minutes, the presenters discuss motoring news, motoring topics, and recent events. The segment is always introduced by Richard Hammond and is accompanied by a 10 second title which features black silhouettes of the presenters against a white background. The title screen varies from episode-to-episode; for example, the title screens have, in the past, featured Jeremy in high-heels, Hammond with a bird on his arm, and the presenters with sombreros.
Celebrity Brain Crash
In this segment, usually around 30 to 40 minutes into the show and lasting 1 to 5 minutes, the presenters introduce a celebrity who is to come into the tent for an interview. The celebrity always begins outside of the tent and are always 'killed' before they enter the tent. Guests on Celebrity Brain Crash have included Simon Pegg, Jeremy Renner, Charlize Theron, and Armie Hammer. The segment always ends with James asking, "So, does that mean he/she/they isn't/aren't coming on then?"
Celebrity Brain Crash was replaced from season 2 onwards with Celebrity Face Off.
Celebrity Face Off
In season 2, Celebrity Face Off was introduced. In the segment, two celebrities, who are "connected in some way", compete against each other in a timed lap around a circuit located near the studio tent. Participants use a Jaguar F-Type to complete their laps. Guests will include Dominic Cooper, David Hasselhoff, Hugh Bonneville, Kiefer Sutherland, and more.
Lap Times
After reviews have finished, The Grand Tour team put their cars around the Eboladrome, their official test track, to see which can achieve the fastest lap time. In season 1, each lap time was completed by The American, a fictionalisation of NASCAR drive Mike Skinner. In season 2, however, Skinner was replaced by British racing driver Abbie Eaton.
The Eboladrome
The Grand Tour's test track, which is the venue for most car reviews and the track around which lap times are completed, is nicknamed the Eboladrome, for it's resemblance to the Ebola virus. The track is located in Wroughton, at an used British Royal Air Force base.[1] The track is not used for the show's Celebrity Face Off segment.
The track features prominent landmarks, such as Old Lady's House, the Isn't Straight, Substation, Your Name Here Corner, and Field of Sheep.
Lap Board
The current lap-board for the Eboladrome is:
| Car | Time | Notes |
| --- | --- | --- |
| Aston Martin Vulcan | 1:15.5 | N/A |
| McLaren 650S | 1:17.9 | N/A |
| Mercedes-AMG GT R | 1:18.7 | N/A |
| Audi R8 V10 Plus | 1:19.2 | N/A |
| Porsche 911 GT3 RS | 1:20.4 | N/A |
| Nissan GTR | 1:21.2 | N/A |
| Porsche 911 C2S | 1:21.4 | N/A |
| BMW M4 GTS | 1:22.4 | N/A |
| Porsche 718 Boxter S | 1:23.4 | N/A |
| BMW M5 | 1:24.2 | N/A |
| BMW M3 | 1:24.3 | N/A |
| Honda NSX | 1:26.0 | Wet |
| BMW M2 | 1:26.2 | N/A |
| Alfa Romeo Giulia Quadrifoglio | 1:27.1 | Wet |
| Honda Civic Type R | 1:28.2 | N/A |
| Ford Focus RS | 1:28.4 | N/A |
| Lexus GSF | 1:29.6 | Damp |
| Ford Mustang | 1:29.6 | N/A |
| Ford Fiesta ST200 | 1:32.8 | N/A |
| Abarth 124 Spider | 1:33.7 | Wet |
Locations
The following is a list of locations in which The Grand Tour has filmed or will film a studio segment:
Southern California, USA
Johannesburg, South Africa
Nashville, USA
Stuttgart, Germany
Rotterdam, Netherlands
Lapland, Finland
Loch Ness, Scotland
Whitby, England
Dubai, United Arab Emirates
From series two onwards, only one location will be used:
The Cotswolds, United Kingdom
Ad blocker interference detected!
Wikia is a free-to-use site that makes money from advertising. We have a modified experience for viewers using ad blockers

Wikia is not accessible if you've made further modifications. Remove the custom ad blocker rule(s) and the page will load as expected.