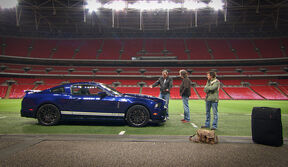 The
England to Italy Race
, that was featured in the
third episode of the
nineteenth series
of Top Gear, was an epic race staged by presenters of the show from Wembley to the San Siro Stadium in Milan, Italy. The race is not to be confused with the
Italy to England Race
, that was featured in series seven, in which
James May
and
Richard Hammond
in a Cesna lightweight aeroplane raced
Jeremy Clarkson
in a
Bugatti Veyron
. The England to Italy Race saw presenters James and Richard on public transport racing Jeremy in a Shelby Mustang. The winner of the race would receive a front row seat to a football match played the same night.
Race Overview
Edit
The race began on the pitch at Wembley Stadium where, after discussing the race, the presenters parted ways. James and Richard began walking through the changing rooms of the stadium to reach the bus stand outside. Jeremy faced a choice on his route through London; go straight through the city or go around it. Seeing as it was five in the morning and therefore it was unlikely that he'd run into any traffic Jeremy opted to go straight through the city. James and Richard arrived at the station where they'd have to catch a train to another station, St. Panceras, in order to board their main train to France under the channel. As Jeremy powered towards the channel between England and France he realized that he was in a bad position for the race. He realized that because the train James and Richard were currently on was twenty minutes faster than it had been and the decision to downgrade the transport across the channel from a JetCat to an old ferry meant he would be an hour behind where he used to be in France. James and Richard boarded their Eurostar train to Paris and whilst waiting to disembark Hammond saw through his tracking device that Jeremy had reached Dover and was boarding his ferry to France. James and Richard's train left the station and began it's journey to France. The slow loading of the ferry meant that James and Richard were under the channel before Jeremy was setting off for France. Once arriving in France Hammond once again checked his tracking device seeing that while they were half way through France, and nearing Paris, Jeremy was only a third of the way across the channel. Jeremy finally disembarked his ferry and arrived into France as James and Richard arrived in Paris and began to head towards their next train, the one that would take them to Italy. Jeremy was not even further behind than he had thought; James and Hammond were now hundred and seventy five kilometers ahead of him. Luckily for Jeremy the next train James and Richard needed to catch to Milan would not leave for another hour and twenty mintues which meant he could close down the gap. After only three hours of driving Jeremy realized that his Mustang's fuel tank was empty. After pulling over at a petrol station he was horrified to learn that his car only had a fifty litre fuel tank in combination with the world's most powerful V8 engine. He realized that he'd need to make a lot more fuel stops along the way. After their eighty mintue wait James and Richard's train finally left the station in Paris and began it's journey towards Milan in Italy. Aboard the train Hammond decided to ring Clarkson to boast about his bleak chances of winning the race. Clarkson revealed to Hammond that he hadn't even arrived in Paris yet; the other two presenters were more than one hundred miles ahead of him at this time. MORE TO COME (PT. 2 OF THE FILM)
Ad blocker interference detected!
Wikia is a free-to-use site that makes money from advertising. We have a modified experience for viewers using ad blockers

Wikia is not accessible if you've made further modifications. Remove the custom ad blocker rule(s) and the page will load as expected.