Character
Edit
The first Stig wore black overalls and helmet. It was introduced in the first episode of the current format by Jeremy Clarkson as the resident test driver, as the presenters could not consistently post fast times themselves. Clarkson noted that "we don't know its name, we really don't know its name, nobody knows its name, and we don't wanna know, cause it's a racing driver." Clarkson then described The Stig as having a very small brain, who had worthless opinions, a disorder described by Clarkson as "Mansell Syndrome". Its job description was to "just go out there and drive fast".
The identity of the black Stig was revealed to be Perry McCarthy when his book Flat Out, Flat Broke was published in 2003. McCarthy is a former Formula 1 driver and test driver for the Benetton, Arrows and Williams teams, and also tested for BMW F1.
The stig was driving on a ships runway but went to farst and landed in the sea 4 miles deep.
and died !!!!!!!
Return Of The Black StigEdit
In 5th of Feburary in 2009, a group of men playing with a frisbee at the beach found Black Stig, its revealed that he survived the accident, Black Stig grabs one of the men's frisbee and starts running away.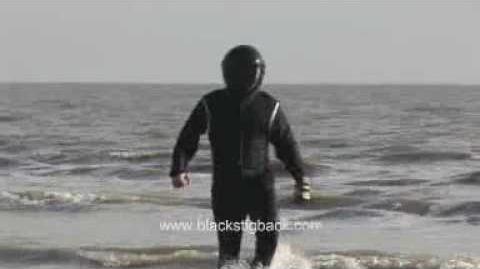 Ad blocker interference detected!
Wikia is a free-to-use site that makes money from advertising. We have a modified experience for viewers using ad blockers

Wikia is not accessible if you've made further modifications. Remove the custom ad blocker rule(s) and the page will load as expected.