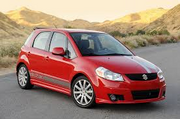 The Suzuki SX4 is a compact hatchback and sedan produced in a join venture by the Japanese carmaker Suzuki and the Italian carmaker Fiat.
The Suzuki SX4 is available in a wide choice of engines, ranging from 1.5 liters to 2.0 liters, in both petrol and diesel.
The SX4 SportBack was the reasonably priced car in Top Gear USA's Big Star, Small Car segment. As per tradition, the car was modified to appear in the show. Driven by Stephen Moyer, 1:39.3 was the car's fastest time around the track.
Ad blocker interference detected!
Wikia is a free-to-use site that makes money from advertising. We have a modified experience for viewers using ad blockers

Wikia is not accessible if you've made further modifications. Remove the custom ad blocker rule(s) and the page will load as expected.