Subaru Impreza WRX STi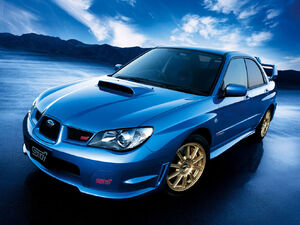 The Subaru Impreza WRX STI, has the highest trim in the Subaru Impreza compact car line, produced by Japanese automaker Subaru.
In the late 1980s, Subaru created the Subaru Tecnica International (STI) division to coordinate development for the FIA World Rally Championship and other motorsports activities. After the company had grown, the division was used to create high-performance consumer versions of the Subaru Impreza WRX, an all-wheel drive car with a turbocharged boxer engine, leading to the development of the Impreza WRX STi. The Subaru World Rally Team has used a race-prepared version of the WRX STI as its rally platform since the model trim's creation.
Ad blocker interference detected!
Wikia is a free-to-use site that makes money from advertising. We have a modified experience for viewers using ad blockers

Wikia is not accessible if you've made further modifications. Remove the custom ad blocker rule(s) and the page will load as expected.