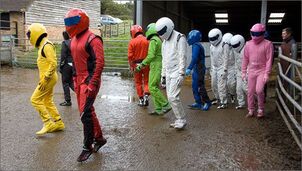 Stigs are bred at the Top Secret Top Gear Farm. Stigs, ranging from white, to black, red, blue, green, yellow and pink, are bred freerange, GM-free, and watched for potential Stig-ness. Most are violent, or completely useless. Some have amazing talent, like painting, and some have only rudementary car knowledge. But it was from here that the New Stig was bred.
Ad blocker interference detected!
Wikia is a free-to-use site that makes money from advertising. We have a modified experience for viewers using ad blockers

Wikia is not accessible if you've made further modifications. Remove the custom ad blocker rule(s) and the page will load as expected.