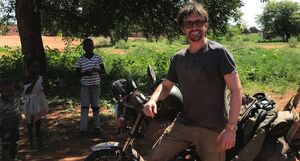 The second series of the Amazon Prime motoring show The Grand Tour, featuring ex-Top Gear presenters Jeremy Clarkson, James May, and Richard Hammond, will air sometime later in 2017. Filming is currently underway for the series.
Production
Edit
Filming for the series began sometime near the end of March. During a DriveTribe livestream on Facebook, the presenters revealed that they were planning to visit Africa, France, the United States, and Georgia over the course of filming for the new series.
On the 20th of March, 2017 news emerged that Hammond had been injured in a motorcycle accident while filming in Mozambique. Both Clarkson and Hammond were in Mozambique for the shoot at the time of the accident. Hammond did not sustain any life-threatening injuries from the crash, though various reports suggest that he was knocked unconscious.
The team has also visited Colorado.
Ad blocker interference detected!
Wikia is a free-to-use site that makes money from advertising. We have a modified experience for viewers using ad blockers

Wikia is not accessible if you've made further modifications. Remove the custom ad blocker rule(s) and the page will load as expected.