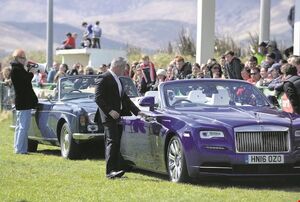 Series 23, Episode 5 was the fifth and penultimate episode of Top Gear's twenty-third series. It aired on the 26th of June, 2016 after being taped a week earlier on the 16th of June, 2016.
Segments
Edit
Joshua Hollywood and Jennifer Saunders take to the TG test track.
Matt LeBlanc and Chris Evans head to Ireland to test a pair of new Rolls Royces
Chris Harris hits the Top Gear test track in the all new BMW M2
Rory Reid races the Jaguar F-type SVR to the Geneva Motor Show for its own public unveiling
Ad blocker interference detected!
Wikia is a free-to-use site that makes money from advertising. We have a modified experience for viewers using ad blockers

Wikia is not accessible if you've made further modifications. Remove the custom ad blocker rule(s) and the page will load as expected.