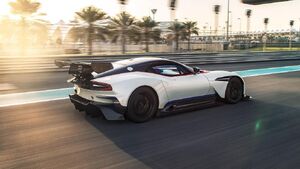 Series 23, Episode 4 was the fourth episode of Top Gear's twenty-third series. It was broadcast on the 19th of June, 2016 after being taped a week earlier on the 9th of June, 2016.
Segments
Edit
Evans, LeBlanc, and Sabine each buy a cheap second-hand car to journey from London to Venice, to prove that travel on the roads of Europe can be just as luxurious as taking the train instead despite Jordan disagreeing.
Harris hits the Yas Marina circuit in Aston Martin's all new hypercar: the Vulcan.
Reid test-drives the all new Tesla Model X in New York.
Bear Grylls and Brian Cox tackle the Top Gear test track in the rallycross Mini.