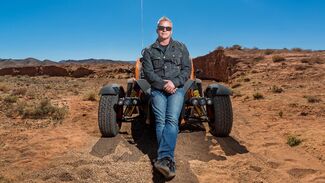 Series 23, Episode 1 was the first episode of the twenty-third series of Top Gear. It marked the first appearance of a new presenting team lead by Chris Evans and featuring Matt LeBlanc, Chris Harris, Eddie Jordan, Sabine Schmitz, and Rory Reid, and the first time in more than a decade that James May, Richard Hammond, and Jeremy Clarkson will not partake in an episode. The episode aired on the 29th of May, 2016 after being taped a week earlier on the 19th of May, 2016.
Segments
Edit
Matt LeBlanc heads to Morocco to test out the Ariel Nomad.
Evans and Sabine Schmitz head to Nevada to test out two American muscle cars on a military airstrip.
LeBlanc and Evans do battle in a UK vs. USA challenge featuring drag queens, a long and unpleasant drive to Blackpool, and some Reliant Rialtos.
Jesse Eisenberg and Gordon Ramsay were the first celebrities of series twenty-three to take on the Top Gear test track.