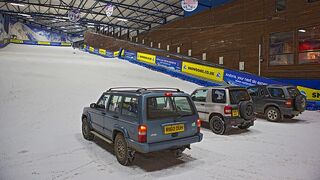 Series 22, Episode 9 is an unaired and incomplete episode of the BBC motoring show Top Gear which was scheduled to be the ninth and penultimate episode of the twenty-second series of the show. Originally, the episode had been slated to be broadcast on the 22nd of March, 2015. However, due to presenter Jeremy Clarkson's dismissal from the show, the episode was removed from the schedule.
Overview
Edit
The guys are challenged to buy the best secondhand SUV available for a few hundred pounds and then meet up for a series of challenges - involving watersports, some serious off-roading, and caravanning - with a heavy penalty for the loser.
Power Test
Edit
Jeremy is on the road and at the Top Gear test track in a trio of luxurious limousines.
The current face of Superman, Henry Cavill, is the tenth celebrity to hit the track in the reasonably priced Vauxhall Astra in series twenty-two.
The episode was originally scheduled to air on the 22nd of March, 2015 but was postponed following Jeremy Clarkson's suspension.