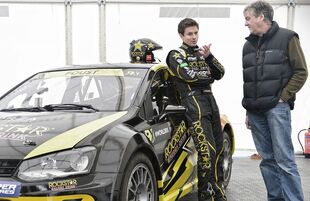 Series 22, Episode 7 was the seventh and penultimate episode of the twenty-second series of the BBC motoring show Top Gear. The episode was broadcast on the 8th of March, 2015. The episode was long-time presenter Jeremy Clarkson's final appearance as lead presenter on the show, being dismissed from the role following a lengthy internal investigation by the BBC.
Overview
Edit
Power Test
Edit
Jeremy hits the track - for only the second time this season - in the brand new Jaguar F-Type R and the Eagle Low Drag GT.
Nicholas Hoult is the star in the reasonably priced car.
James, Jeremy, and Richard
Edit
Captain Slow is pushed far outside his comfort zone as he is forced to compete in the FIA World Rallycross Championship at Lydden Hill, a professional rallycross event. Strapped in to an incredibly powerful hatchback, James must compete against professional drivers including Tanner Foust, the host of the American version of Top Gear. To make life even more difficult for James, his support crew will consist of Richard Hammond and Jeremy Clarkson.
Hammond heads to Spain to test the latest version of a legendary classic: the Mazda MX-5.
The episode was the final show broadcast before Jeremy Clarkson's dismissal from the BBC and may turn out to be the final episode in which he will appear.
It is Jeremy Clarkson's final episode as a presenter during the studio segments.
Ad blocker interference detected!
Wikia is a free-to-use site that makes money from advertising. We have a modified experience for viewers using ad blockers

Wikia is not accessible if you've made further modifications. Remove the custom ad blocker rule(s) and the page will load as expected.