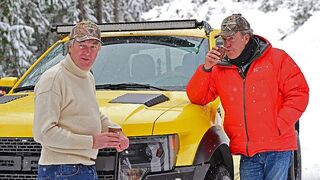 Series 22, Episode 6 was the sixth episode of the twenty-second series of the BBC motoring show Top Gear. The episode was broadcast on the 1st of March, 2015.
Overview
Edit
Richard is air-lifted onto a mountain in the wilderness of Canada with a watch that he can send a distress signal from. Unfortunately the signal is to be received and acted upon by none other than Jeremy and James. Reluctantly, the pair set off on an epic quest to rescue their colleague using two pickup trucks, staging a race at the end to see who has to drive the Hamster home.
Power Test
Edit
Jeremy hits the test track, for the first time this season, in the all-new Lexus RC F before switching to an LFA - a car he once said was his favourite ever made - to show that Lexus can and has been better.
Gillian Anderson will be the seventh celebrity in series twenty-two to take to the Top Gear test track in the reasonably priced car.