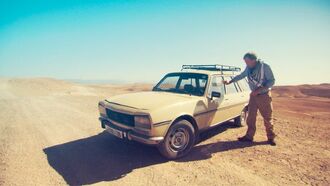 Series 22, Episode 5 was the fifth episode of the twenty-second series of the BBC motoring show Top Gear. The episode was broadcast on the 22nd of February, 2015.
Overview
Edit
Power Test
Edit
Hammond hits the track in the Porsche Cayman GTS and the all new Chevrolet Corvette.
British singer Olly Murs will try his hand in Top Gear's reasonably priced Vauxhall Astra, clocking a 1:44.60, the fastest lap time as of the date of airing.
Ferrari's latest and greatest supercarr, the LaFerrari, is finally put through its paces in Italy.
May and Clarkson
Edit
Jeremy and James take a look back at the weird and wonderful history of the world's most indecisive car company - Peugeot - in a film in which the boys encounter corsets, artillery shells, and the desert sand.
Ad blocker interference detected!
Wikia is a free-to-use site that makes money from advertising. We have a modified experience for viewers using ad blockers

Wikia is not accessible if you've made further modifications. Remove the custom ad blocker rule(s) and the page will load as expected.