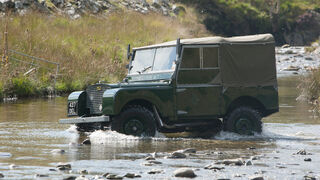 Series 22, Episode 4 was the fourth episode of the twenty-second series of the BBC motoring show Top Gear. The episode aired on the 15th of February, 2015.
Overview
Edit
Power Test
Edit
May hits the Top Gear test track in the all new Mercedes AMG GT.
Actors Margot Robbie and Will Smith are the latest celebrities to tackle the test track in the reasonably priced car in series twenty-two.
Clarkson
Edit
Clarkson puts two brand new cars from BMW to the test out on the track and on the open road. Starting with the BMW M3 out at Dunsfold, Jeremy decides to put the i8 to the test on a road trip up to Whitby in search of the best fish and chips in town. There, he must decide which he wants to use for the drive home.
With production of the Land Rover Defender finally ending after more than sixty years, Hammond decides to pay tribute to this icon by replicating a famous advert for the car. An ad which saw the car being winched up the side of a dam.
Ad blocker interference detected!
Wikia is a free-to-use site that makes money from advertising. We have a modified experience for viewers using ad blockers

Wikia is not accessible if you've made further modifications. Remove the custom ad blocker rule(s) and the page will load as expected.