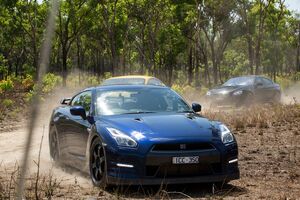 Series 22, Episode 2 was the second episode of the twenty-second series of the BBC motoring show Top Gear. The episode was broadcast on the 1st of February, 2015.
Overview
Edit
Kiefer Sutherland will be the second celebrity to take the helm of the Vauxhall Astra in series twenty-two.
The presenters travel to Australia's Northern Territory for a road trip across the outback in three GT cars. On their trip they will deal with crocodile infested rivers (again), camp in the outback, and race through an open-pit mine before the journey culminates with a task to herd some four-thousand cows in one of the world's largest farms.
The episode is one of the few that Top Gear has produced that do not feature a power test.
The episode is one of the few non-special episodes of Top Gear that does not feature the news.
Ad blocker interference detected!
Wikia is a free-to-use site that makes money from advertising. We have a modified experience for viewers using ad blockers

Wikia is not accessible if you've made further modifications. Remove the custom ad blocker rule(s) and the page will load as expected.