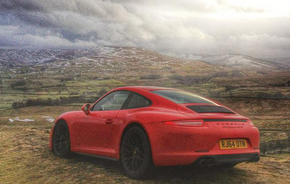 Series 22, Episode 10 is an unaired and incomplete episode of the BBC motoring show Top Gear which was to be the tenth and final episode of the show's twenty-second series. Originally, the episode had been slated to be broadcast on the 29th of March, 2015. However, due to presenter Jeremy Clarkson's dismissal from the show, the episode was removed from the schedule.
Overview
Edit
While an official episode synopsis for the show was never released prior to its cancellation it's highly likely that the presenters of the show were working on a film for the episode when Jeremy's 'fracas' occurred. According to The Telegraph all three presenters had been filming an item where they drove sports cars around the local roads in Hawes, North Yorkshire. Cameraman Iain May posted a picture of a Porsche Cayman GTS on top of a hill in the English countryside on the 5th of March and later of himself with presenter James May; these pictures were likely to have been taken on the day of the 'fracas'. A family who was interviewed by Sky News about Jeremy's fracas shared pictures they took of the Top Gear convoy in the car park, which shows the Porsche Cayman GTS and a Rolls Royce Wraith which were being used by the presenters during the shoot. According to various news outlets, the team were filming on Buttertubs Pass. Additionally, James was known to be reviewing the Porsche 911 Turbo S at the Top Gear test track, an item which had yet to air in the series. It is likely that this would have formed the power test segment of the show with the presenters' three-way sports car item being the main feature.
The episode would have been the first since 2007's Series 10, Episode 10 to be the tenth episode in a series of Top Gear
The episode was originally scheduled to air on the 29th of March, 2015 but was postponed following Jeremy Clarkson's suspension.
The episode stands out from the two other cancelled episodes of the show as it is the only one for which an official synopsis had yet to be released. Hence, some details reported here are speculative and based off the limited information available.