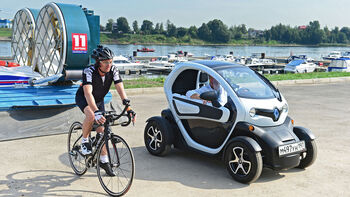 Series 22, Episode 1 was the first episode of the twenty-second series of the BBC motoring show Top Gear. The episode was broadcast on the 25th of January, 2015.
Overview
Edit
Power Test
Edit
Richard Hammond heads to the test track for a review of Lamborghini's Gallardo replacement - the Huracán - to see if it lives up to the exceptional reputation of its predecessor. The Huracan placed fifth on the Top Gear power time leaderboard, clocking in at 1:15.8.
Ed Sheeran was the first celebrity in series twenty-two to take on the Kia Cee'd and the Top Gear test track, posting a lap time of 1:54.3 using automatic transmission, the second slowest.
The presenters travel to Saint Petersburg to recreate their race across London from series ten. James raced in the space-age Renault Twizy, Hammond on a race bicycle, Clarkson on a professionally built hovercraft, and the Stig took advantage of Russia's public transport system.
Ad blocker interference detected!
Wikia is a free-to-use site that makes money from advertising. We have a modified experience for viewers using ad blockers

Wikia is not accessible if you've made further modifications. Remove the custom ad blocker rule(s) and the page will load as expected.