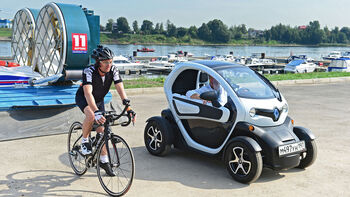 Series 22, Episode 1 was the first episode of the twenty-second series of the BBC motoring show Top Gear. The episode was broadcast on the 25th of January, 2015.
Overview
Edit
The presenters travel to Saint Petersburg to recreate their race across London from series ten. James raced in the space-age Renault Twizy, Richard on a race bicycle, Jeremy on a professionally built hovercraft, and the Stig took advantage of Russia's public transport system.
Power Test
Edit
Richard heads to the test track for a review of Lamborghini's Gallardo replacement - the Huracán.
Ed Sheeran was the first celebrity in series twenty-two to take on the Vauxhall Astra at the Top Gear test track.