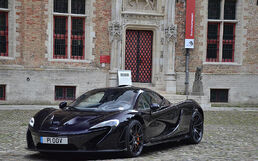 Series 21, Episode 2 
was the second episode of Top Gear's most recent, 
twenty-first series
. The episode aired on the 9th of February, 2014. 
Road Test
Edit
Jeremy drives McLaren's latest, the P1, on the rainy streets of Bruges, a historical city in Belgium, before taking on a legendary F1 circuit. 
Tom Hiddleston, of Thor fame, is the second celebrity to tackle the Vauxhal Astra in Top Gear's twenty first series.
Richard and Jeremy
Edit
Richard drives the Alfa Romeo 4C in Bellagio, Italy before staging a race against Clarkson, who uses a quad bike and jet ski infused vehicle known as a quadski, around Lake Como. 
James heads to Camp Bastion in the center of Afghanistan to learn about and experience first hand the vehicles that the British army uses in war.