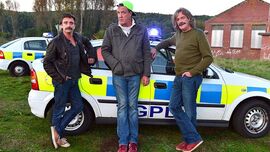 Series 21, Episode 1 
was the first episode of Top Gear's 
twenty first series
 and the show's most recent episode. The premiere episode aired on the 2nd of February, 2014. The episode will the first episode of Top Gear to air 2014.
Hugh Bonneville, star of the television show Downtown Abbey, was the first celebrity in series 21, 2014 and do a wet lap in Vauxhall Astra for a spin managing a 1:50.1.
The presenters attempt to prove that hatch-backs from their younger days are better than the modern equivalents. To demonstrate this each chooses their favourite hot hatch and the trio set off an a road trip, taking in a series of challenges along the way. Their test culminate at an army training ground in Wales where they must take on the fearsome Top Gear Police Department. 
Ad blocker interference detected!
Wikia is a free-to-use site that makes money from advertising. We have a modified experience for viewers using ad blockers

Wikia is not accessible if you've made further modifications. Remove the custom ad blocker rule(s) and the page will load as expected.