Ad blocker interference detected!
Wikia is a free-to-use site that makes money from advertising. We have a modified experience for viewers using ad blockers

Wikia is not accessible if you've made further modifications. Remove the custom ad blocker rule(s) and the page will load as expected.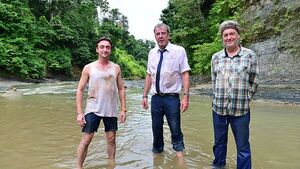 Series 21 was the twenty first season of the popular BBC motoring show Top Gear. The twenty first season of the show was presented by the usual presenting team of Jeremy Clarkson, Richard Hammond, and James May. Filming for the series took place from late 2013 to early 2014. A new special, which aired in March of 2014, was filmed in Burma and Thailand over two weeks; the special aired in two parts. The series premiered on the 2nd of February, 2014. Filming for the series took the presenters to Italy, the United Arab Emirates, Burma, Belgium, Thailand, Ukraine, and Afghanistan. A following series, Top Gear's twenty second, is set to air in early 2015.
Jeremy heads to Brussels, the capital of Belgium, to drive the blisteringly fast McLaren P1 (2)
The presenters go trucking across Burma and Thailand for their annual Christmas Special. (6, 7)
Jeremy, James, and Richard head to the Ukraine in three of the latest hot hatches participating in a series of challenges along their journey. Their journey takes them from the Crimean peninsula to the haunting town of Chernoybl. (3)
Richard heads to the dunes of the UAE to drive a modified Mercedes G Wagen with six wheels. (4)
The presenters prove that older hot hatches are better than their modern equivalents via a road trip in Wales (1)
Hammond and Clarkson pit an Alfa 4C and a quadski against each other in a race in Italy (2)
Power tests of Zenvo ST1, BMW M135i, VW GTI, Caterham 7, and Caterham AeroSeven (Concept).
James takes a look at the vehicles of war in Camp Bastion, Afghanistan (2)
Jeremy and James present a series of transport-themed public information films to a panel of experts (5)
Jeremy drives the Alfa Romeo Disco Volante in Italy (4)
Richard tests the new Porsche 918 in Dubai and then puts it on the track to see if it can beat the McLaren P1 (5)
| Episode | Film(s) | Track Test | SIARPC |
| --- | --- | --- | --- |
| 1 | To prove that older hot hatches are better than their modern day counterparts the presenters each choose their favourite classic hot hatch and set off on a road trip that culminates at a Welsh army base and a confrontation with the Top Gear Police Department. | None | Hugh Bonneville |
| 2 | Richard test drives the Alfa Romeo 4C in Italy before staging a race against Jeremy on a quadski. Jeremy also heads to Belgium for a road test of the McLaren P1. James is in Camp Bastion, Afghanistan to learn about the army's vehicle redeployment efforts.  | None | Tom Hiddleston |
| 3 | The presenters take three of the latest hatch backs on a road trip across the Ukraine from Crimea to Chernobyl. Back at the test track the Zenvo ST1 is put through it's paces. | Zenvo ST1 (Jeremy) | James Blunt |
| 4 | Richard heads to the dunes of the UAE for a test of a new six-wheeled off-roading monster from Mercedes. Jeremy drives the Disco Vilante in Italy and James is out on the track in a pair of Caterhams.  | Caterham 160 and 620R (James) | Jack Whitehall |
| 5 | Jeremy hits the track in the BMW M135i and the VW Golf GTI, Richard drives the Porsche 918 around the Yas Marina circuit in Abu Dhabi, Jeremy and James join forces to create a cyclist themed public information film. | BMW M135i vs VW Golf GTI (Jeremy) | Aaron Paul |
| 6 | (Burma Special , Pt. 1) The presenters head to Myanmar, more commonly known as Burma, for a trucking adventure across a country that only recently opened it's doors to Westerners. Their destination: the River Kwai in Thailand. | None | None |
| 7 | (Burma Special, Pt. 2) The presenters reach the climax of their Burmese adventure. Reaching the volatile Shan State the presenters head for the border with Thailand. | None | None |