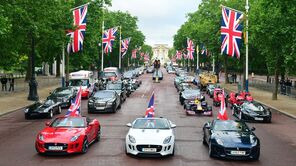 Series 20, Episode 6 was the sixth and final episode of the twentieth series of the popular UK motoring show Top Gear. The sixth episode aired on the 4th of August 2013.
Special Review(s)
Edit
Richard drives the new Range Rover Sport in Cheshire, first testing it's off-road capabilities before handing it over to the Stig for a lap of Donnington Raceway
James tests the new London bus, called the NBFL, seeing if it is a viable substitute for a supercar a process which involves a track day and an event filled journey through the English countryside.
Jeremy drives the new Jaguar F-Type along some of Britains finest roads.
Mark Webber is the series first and only F1 Star in a Reasonably Priced Car managing a 1:43.1 in the Suzuki Liana
Inspired by the machines they drove in their reviews the three presenters take a look at the British motor industry. For the grand final the trio meet up in London for a parade of British cars on the Mall in front of Buckingham Palace. 
Ad blocker interference detected!
Wikia is a free-to-use site that makes money from advertising. We have a modified experience for viewers using ad blockers

Wikia is not accessible if you've made further modifications. Remove the custom ad blocker rule(s) and the page will load as expected.