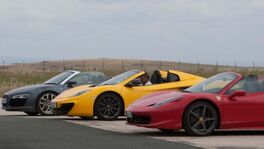 Series 20, Episode 3 was the third episode of the twentieth series of Top Gear. The episode aired on the July 14, 2013.
Benedict Cumberbatch managed a 1:47.8 in the new reasonably priced car, the Vauxhall Astra.
The presenters head to Spain for a road trip in three "budget" convertible sports cars in order to reflect the countries poor economic situation. Along their journey the presenters saw just how devastating the global financial crisis has been on Spain; they saw ghost towns, empty motorways, unused airports, and roads to nowhere. Through various tests the presenters found the Audi R8 Spyder to be the best "budget" supercar however, despite this, the presenters unanimously agreed that the Ferrari 458 Spyder was better.
Power Test
Edit
Because of the three-part Spanish supercar film, there was no power test in this episode.
Ad blocker interference detected!
Wikia is a free-to-use site that makes money from advertising. We have a modified experience for viewers using ad blockers

Wikia is not accessible if you've made further modifications. Remove the custom ad blocker rule(s) and the page will load as expected.