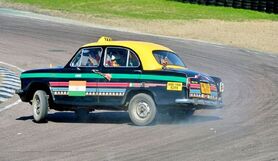 Series 20, Episode 2 was the second episode of the twentieth series of the popular UK motoring show Top Gear. The second episode aired on the 7th of July 2013. 
Power Test
Edit
Jeremy drives the BAC Mono, a new British track day car, which became the second fastest car around the Top Gear track, behind only the Pagani Huayra that was tested in the previous series.
Special Review
Edit
Jeremy heads to a rain-drenched Scotland for a review of Ferrari's F12 Berlinetta. He says that he enjoys the car but finds it hard to 'enjoy all of it' and astounds his co-presenters by saying he wishes it "had a bit less power". 
Ron Howard is the first guest to have a dedicated SIARPC segment since the introduction of the Vauxhall Astra as the new reasonably priced car. He managed a 1:49.9, the second slowest at the time.
Richard attempts to find the world's greatest taxi by staging a demolition derby, ultimately crowning India's Hindustan Ambassador the best.
James commemorates the closure of the BBC's Television Centre by staging a race between two parkour athletes and a dirt bike rider, with the bike winning the race in a close finish.  
Ad blocker interference detected!
Wikia is a free-to-use site that makes money from advertising. We have a modified experience for viewers using ad blockers

Wikia is not accessible if you've made further modifications. Remove the custom ad blocker rule(s) and the page will load as expected.