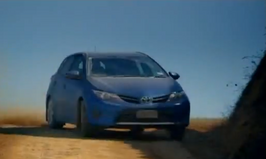 Series 20, Episode 1
was the first episode of the
twentieth series
of the popular UK motoring show
Top Gear
. The first episode of the series premiered on the 30th of June 2013. The premiere was watched by 4.7 million people in the United Kingdom. 
Power Test
Edit
Richard Hammond heads to the track to test a trio of hot hatches: the Renaultsport Clio 200, Peugeout 208 GTI, and Ford Fiesta ST. Through his test he concluded that although the Peugeout and the Renault were good the Ford Fiesta ST was better and he and Jeremy agreed that the Fiesta would go down in history as an all-time classic.
Hammond and Clarkson wave goodbye to the Kia Cee'd, first introduced in series 15, and welcome in the Vauxhall Astra as the new reasonably priced car with a celebrity barbeque. Celebrities included Jimmy Carr (who broke the Astra), Warwick Davis, Joss Stone, and Brian Johnson who held the fastest lap time in the new car.
May and Clarkson head to the New Zealand for an epic race between the Oracle yacht and a 'rented' Toyota Carolla. The pair raced each other to the second northernmost point of New Zealand at the tip of the North Island. Jeremy's route was considerably longer than James' in the yacht and he had to journey through the crowded centre of Auckland, New Zealand's largest city. In the end, James won the race, after swimming the final few metres to the shoreline whilst Jeremy's Corolla was beached.
Ad blocker interference detected!
Wikia is a free-to-use site that makes money from advertising. We have a modified experience for viewers using ad blockers

Wikia is not accessible if you've made further modifications. Remove the custom ad blocker rule(s) and the page will load as expected.