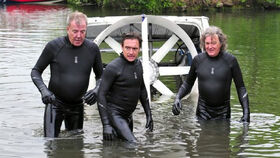 Series 20 was the twentieth season of the popular UK motoring show Top Gear. The first episode aired on the 30th of June 2013; the final episode aired on the 4th of August 2013. The 20th series of Top Gear contained six episodes and featured the debut of the Vauxhall Astra Techline as the new reasonably priced car, replacing the Kia Cee'd introduced in Series 15. Filming for the twentieth series of Top Gear had taken the presenters across the UK, to New Zealand, Gilbraltar, Spain, and Scotland; filming began in March 2013. A DVD for series 20 will be released later in the year in a joint pack also featuring series 19. A following series, series 21, has been confirmed to air in early 2014.
May and Clarkson head to New Zealand for a race up the famous Ninety Mile Beach. Clarkson will be in a Toyota Corolla (Auris) while May will be on board the Oracle yacht. (1)
All three presenters head to Spain for a road trip in the latest and greatest convertible supercars. (3)
Hammond attempts to find the world's best taxi by staging a demolition derby involving the most popular taxis from over the world. (2)
Clarkson finally drives Ferrari's F12 Berlinetta in the beautiful, but rainy, Scottish countryside. (2)
All three presenters celebrate the magnificence of the British car industry by each driving a modern British vehicle. Jeremy drives a new Jaguar, Richard a Land Rover, and James a London Bus. (6)
May and Clarkson find the ultimate car for caravan-enthusiasts, choosing between a Mazda and VW. (5)
In an effort to combat flooding all three presenters attempt to build the ultimate amphibious vehicle by converting a van into a hovercraft. (4)
The boys hit the track for power tests of the BAC Mono, Mercedes SLS AMG Black, Mercedes SLS AMG Electric Drive, Renaultsport Clio 200, Peugeout 208 GTI, Ford Fiesta ST, and Porsche 911 Carrera S.
And there's a party/BBQ for the induction of the new reasonably priced car, the Vauxhall Astra Techline. (1)
James May pays tribute to the recently closed BBC Television Centre by staging a race between two parkour runners and a stunt bike rider. (2)
Richard heads to Italy to take a look at two of Lamborghini's most recent cars. (5)

(#) indicates the episode in which the film is featured.
Episode Guide
Edit
| Episode | FIlm(s) | Power Test | SIARPC |
| --- | --- | --- | --- |
| 1 | Jeremy and James stage an epic race in New Zealand between a yacht and a car, racing along the famous Nintey Mile Beach. A new reasonably priced car is introduced: the Vauxhall Astra | Renaultsport Clio 200 vs Peugeout 208 GTI vs Ford Fiesta ST (Richard) | Misc. |
| 2 | Richard stages a demolition derby to find the world's best taxi, James races a motorbike against two parkour runners across the BBC television centre, Jeremy drives the latest Ferrari in Scotland | BAC Mono (Jeremy) | Ron Howard |
| 3 | Jeremy, Richard, and James head to Spain in an effort to 'ease' the countries economic pain by having a road trip in three of the latest convertible supercars.  | None. | Benedict Cumberbatch |
| 4 | The presenters attempt to build the ultimate amphibious vehicle in order to combat the regular event of flooding in British towns, converting an old van into a hovercraft | Mercedes SLS Black vs Mercedes SLS Electric Drive (Jeremy) | Hugh Jackman |
| 5 | Jeremy and James attempt to find the ultimate car for caravanists, choosing from a selection of the newest CUVs. Richard heads to Italy for a review of two of the latest Lamborghinis. | Porsche 911 Carrera S, Singer 911 (James) | Steven Tyler |
| 6 | The presenters gather together to celebrate the magnficence of the British car industry in the series finale. As part of their celebration Jeremy drives the Jaguar F-Type, Richard the new Range Rover Sport, and James a 330,000 pound London bus. | None. | Mark Webber (F1) |