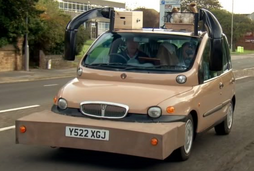 Series 19, Episode 5 was the fifth episode of the nineteenth series of Top Gear. It was first broadcast on the 24th of February 2013.
Jeremy and Richard create a car designed for old people, a modified Fiat Multipla (titled the Rover James) which includes damage-proof bumper, simple dashboard, a roof balloon and much more. 
James goes to Nevada to test the new Range Rover. He races it against an autonomous vehicle which can drive itself over off-road terrain.
Actor James McAvoy manages a 1:43.6 in the Kia Cee'd.