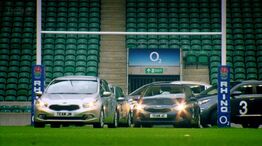 Series 19, Episode 4 was the fourth episode of the nineteenth series of Top Gear. It was first broadcast on the 17th of February 2013.
Jeremy makes a factual test of the new Kia Cee'd, enlisting the help of Bruce Willis, Matt LeBlanc, and Eric Clapton along the way. Later on, he and James play rugby with Cee'd and Sportage. 
Richard, after losing the race to Calexico challenge in episode 2, is obliged to test the Mastretta MXT, the first Mexican sports car.
Power Test
Edit
Jeremy tests three hot hatches, the Vauxhall Astra VXR, the Renault Megane 265 and the Ford Focus ST. 
Lewis Hamilton returns to the Top Gear test track, becoming the fastest F1 SIARPC at the time.