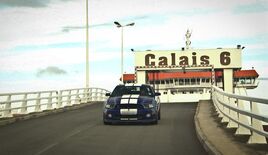 Series 19, Episode 3 is the third episode of the ninteenth series of Top Gear. It was first broadcast on the February 11, 2013.
Power Test
Edit
Jeremy tests the Toyota GT86, the Car of the Year of the Top Gear Magazine. He also introduces the very-similar Subaru BRZ to see which is best.
It's another one of Top Gear's epic races as Jeremy races James and Richard from Wembley Stadium to the San Siro Stadium in Italy. Jeremy uses the Shelby Mustang GT500 while James and Richard use the new and improved Eurostar train. The winner of the race would get a front row seat at a football match, the problem was there was only one ticket.
Scottish singer and songwriter Amy Macdonald.
Ad blocker interference detected!
Wikia is a free-to-use site that makes money from advertising. We have a modified experience for viewers using ad blockers

Wikia is not accessible if you've made further modifications. Remove the custom ad blocker rule(s) and the page will load as expected.