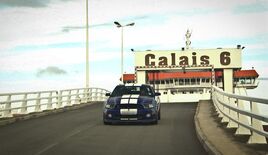 Series 19, Episode 3 is the third episode of the nineteenth series of Top Gear. It was first broadcast on the February 11, 2013.
It's another one of Top Gear's epic races as Jeremy races James and Richard from Wembley Stadium to the San Siro Stadium in Italy. Jeremy uses the Shelby Mustang GT500 while James and Richard use the new and improved Eurostar train. The winner of the race would get a front row seat at a football match, the problem was there was only one ticket.
Power Test
Edit
Jeremy tests the Toyota GT86 at the track.
Scottish singer and songwriter Amy Macdonald.
Controversy
Edit
Almost a year after the original airing of the incident, The Daily Mirror obtained footage of an outtake of Clarkson's 86/BRZ review in which he appears to mumble the word 'ni**er'. The footage prompted Clarkson to release an apology video and caused the BBC to issue him a 'final warning', which would later lead to his dismissal.