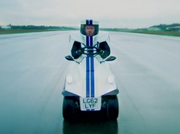 Series 19, Episode 1 is the first episode of the ninteenth series of Top Gear. It was first broadcast on the 27th of January 2013.
Power Test
Edit
Richard tests the Pagani's newest car since the Zonda, the Huayra, which The Stig manages to hurl around the test track in 1:13.8
James goes to Wales to test the fastest Bentley ever made, the Bentley Continental GT Speed, which is tested on a stage of the Wales Rally, driven by Kris Meeke.
Jeremy finds the Peel P50 "too big" and builds himself an even smaller one. The P45, which he tests in London, and tries to sell it to the Dragon's Den.
Damian Lewis, from the TV series Homeland.
Ad blocker interference detected!
Wikia is a free-to-use site that makes money from advertising. We have a modified experience for viewers using ad blockers

Wikia is not accessible if you've made further modifications. Remove the custom ad blocker rule(s) and the page will load as expected.