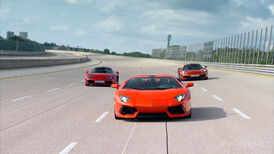 Series 18 of Top Gear premiered on January 29th 2012. It contains the Indian Special (also the 2011 Christmas special). The usual presenting team of Jeremy Clarkson, Richard Hammond, and James May returned for the eighteenth series of the BBC motoring show. The eighteenth series of Top Gear was the only series of the show in 2012 as the nineteenth series was postponed until 2013 along with the Africa Special.
| Episode | Description |
| --- | --- |
| India Special | The presenters head to India for a trade mission to improve relations with Britain and India. |
| 1 | The presenters head to Italy for a supercar road trip in the Noble M600, Lamborghini Aventador, and McLaren MP4-12C. Along the way the presenters have a high speed encounter at the Nardo ring, race through the terrible traffic of Rome, and fly around the Imola race track. |
| 2 | Richard Hammond travels to Texas for a look at the uniquely American motorsport of Nascar; James May and Jeremy Clarkson are in China to have a look at the past, present, and future one of the world's fastest growing car industries. |
| 3 | Hammond and Clarkson attempt to film a car chase sequence for 'The Sweeney', an upcoming British film. James May is on the track in two small hatchbacks. |
| 4 | James May travels to Florida to test the Fisker Karma, Clarkson heads to a unique test track on the edge of the Arctic circle to test a Ferrari and a Bentley, and all three presenters attempt to testing their creations in Wales. |
| 5 | May and Clarkson wave goodbye to Saab by taking a look back at some of the highlights and lowlights of this memorable car manufacturer, Hammond races a jet pack man in a rally car. |
| 6 | The presenters hit Donnington in three track-day cars to see whose is the best. Later, the presenters see if their track day cars are any good as every day cars, getting caught in an enormous storm in the process. |
| 7 | The presenters see if you can go motor racing for less than the cost of playing golf. James May is given the rare experience of driving one of the most expensive Ferrari's ever made, the 250 GT Spyder California SWB. This particular car was originally owned by James Coburn and purchased by Chris Evans in 2008. Evans was chosen to lead Top Gear in 2015 after Jeremy Clarkson's Dismissal. |
Ad blocker interference detected!
Wikia is a free-to-use site that makes money from advertising. We have a modified experience for viewers using ad blockers

Wikia is not accessible if you've made further modifications. Remove the custom ad blocker rule(s) and the page will load as expected.