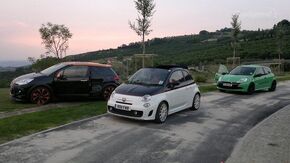 Series 17
is the seventeenth series of the UK motoring show
Top Gear
which premiered on the 26th of June 2011.
Jeremy Clarkson
,
James May
, and
Richard Hammond
 all returned as presenters for this series. The seventeenth series consisted of six episodes and was the final season of Top Gear for 2011.
| Episode | Film(s) | Power Test | SIARPC |
| --- | --- | --- | --- |
| 1 | Richard tests the Marauder in Johannesburg, James May races skeleton sled racer Amy Williams in a rally-spec Mini in Norway, Jeremy celebrates the 50th birthday of Jaguar E-type | BMW Series M Coupe, Lotus Evora S, VW Golf GTI, and Porsche Cayman R (Jeremy) | Alice Cooper |
| 2 | All three presenters travel to the Italian Riviera to test three of the latest hot hatchbacks, taking in a series of challenges along the way including a scavenger hunt and race around the Monaco GP track. | Aston Martin Virage (James) | Ross Noble |
| 3 | James travels to the Death Valley in Nevada to test the Range Rover Evoque, Richard and Jeremy attempt to buy a better second-hand car for the same price as the cheapest car in the UK. | McLaren MP4-12C (Jeremy) | Sebastian Vettel |
| 4 | The presenters each attempt to build a train from cars, noting that trains are very expensive. Jeremy builds one while Richard and James build another. | Nissan GT-R, Jaguar XKR-S (Jeremy) | Rowan Atkinson |
| 5 | Jeremy tests the Jensen Interceptor before meeting with the other presenters to make a fake 70s title card, all three presenters become demolition men, using tanks to get the job done. | Lotus T125 (Jeremy) | Bob Geldof |
| 6 | James and Jeremy go for a trip to seaside in two of the latest electic cars, Richard visits a rally team consisting of wounded soldiers. | Lamborghini Aventador (Richard) | Louis Walsh |
Ad blocker interference detected!
Wikia is a free-to-use site that makes money from advertising. We have a modified experience for viewers using ad blockers

Wikia is not accessible if you've made further modifications. Remove the custom ad blocker rule(s) and the page will load as expected.