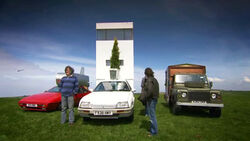 Series 15 was the 15th edition of the BBC's popular car program Top Gear (UK). The 15th series was the last of the second Stig as he quit after the 15th series ended. The usual presenting team of Jeremy, Richard, and James once again returned. The series officially has 7 episodes (including the East Coast Road Trip as the final episode). The fifthteenth series of Top Gear saw the introduction of new reasonably priced car, the Kia Cee'd, which was revealed in the first episode of the season.
| Episode  | Film(s) | Power Test | SIARPC |
| --- | --- | --- | --- |
| 1 | In the series premiere, James May heads to Iceland to conquer an active volcano in a Hilux, Jeremy risks his life driving in a Reliant Robin, and Jeremy and Richard waves goodbye to the Lacetti and welcome in the new reasonably priced car. | Bentley Continental Supersports (Jeremy) | Misc. |
| 2 | The presenters are each given a budget of 5000 pounds to buy a four door saloon that can be used as a track day car. To test their machines they head to Europe's capital of speed: Germany. | Porsche 911 (James) | Alastair Campbell |
| 3 | The team set out to test three of the newest four door supercars to see which is the best for a business men. Their tests culminate in the presenters chauffeuring a wedding party around town. | Chevrolet Camaro, Mercedes E63 AMG (Richard) | Rupert Grint (Normal), Rubens Barrichello (F1) |
| 4 | The presenters each build a motorhome and then set off for a camping holiday in an attempt to prove which machine is the best. | Audi R8 V10, Porsche 997 (Jeremy) | Andy Garcia |
| 5 | Richard races a custom-built VW Touareg against some snowmobilers in Sweden, James attempts to break a world record in the new Bugatti Veyron, and Jeremy pays tribute to the motoring legend Ayrton Senna. | None. | Cameron Diaz, Tom Cruise |
| 6 | The team set out to prove that the hatchback did not deserve to kill off the British sports cars by purchasing three of the classics and then setting off for a trip down memory lane. | Ferrari 458 Italia (Jeremy) | Jeff Goldblum |
| 7 | USA Supercar Road Trip Special | None. | Danny Boyle |
Ad blocker interference detected!
Wikia is a free-to-use site that makes money from advertising. We have a modified experience for viewers using ad blockers

Wikia is not accessible if you've made further modifications. Remove the custom ad blocker rule(s) and the page will load as expected.