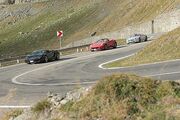 Series 14 Episode 1, first broadcast on 15th November 2009.
Main Challenge
Edit
Jeremy, James and Richard are told to take 3 convertibles (Lamborghini Gallardo, Ferrari California, Aston Martin DBS Volante) on a grand tour of Romania to find the best driving road in the world. Along the way Jermey bought James a second hand Dacia Sandero and they took there super cars to a tunnel to see witch was the best sounding to play this game you aperantly need: a tunnel, a supercar and a cheap app.
Clarkson's Newspaper ArticleEdit
A week later in the newspaper there was an article about Jeremy Clarkson being inapropiatly behaved towards Romanians when he put on a bowler hat and said "I am wearing this so the Gypsies think I am one".
James takes two luxury cars out onto the track. (BMW 7-Series, Mercedes S63 AMG.) He also plays Top Trumps with The Stig, only to have him give up.
Ad blocker interference detected!
Wikia is a free-to-use site that makes money from advertising. We have a modified experience for viewers using ad blockers

Wikia is not accessible if you've made further modifications. Remove the custom ad blocker rule(s) and the page will load as expected.