Top Gear episode
Series 1, Episode 8
Production Code
GFGA008E
Episode #
8
Original airdate
8 December, 2002
Guest stars
Michael Gambon

Series 1, Episode 8 is the name of the eight' episode in the first series of Top Gear.
Jeremy road tests the Audi RS6, the Mercedes-Benz E55 AMG, and the Maserati 3200GT on the track. He finds it to be a confused and unsatisfying alternative, somewhere between the performance of a Ferrari and the comfort of a Jaguar. The Stig achieves an underwhelming time of 1.38.0 (Very wet track)
Hammond looks at super-minis, choosing the mid-range 1.4 liter of each type. He finds the Ford Fiesta to be rather good to drive and quite practical, but extremely boring both inside and out. The Citroën C3 is interesting, but slow and forgettable to drive. The Honda Jazz is easily the most practical and spacious, quite like a mini MPV, as well as intelligently proportioned inside. But the Jazz has all the downsides of an MPV, such as noise reverberation and poor drive feel. The Nissan Micra is less practical, but offers a huge amount of technology and options for its price. Hammond is finally satisfied by the MG ZR, which feels special to drive even in the mid-range non-hot version.
Challenge
Edit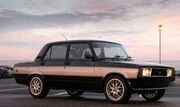 White-Van Men raced a Ford World Rally Transit van around the Top Gear track. They all had similar times but one; Clarkson's preferred man got lost and turned up a time of two minutes behind the others.
A Lada Riva is modified by Lotus. After driving it on the track, the Lotus test driver calls it "easily the worst car I've ever driven." They take out the shoddy Russian 35-bhp engine and replace it with an identical type and size of engine, but tuned to deliver 180 bhp. The gearbox, suspension, and bodywork are replaced or substantially tuned. With a modified exterior (debadged of any Lada markings), a refreshingly updated interior, and a much-improved suspension, Lotus spent a total of 1000 hours and £100,000 to deliver a Lada that is actually good to drive and be seen in.
Star in a Reasonably-Priced car
Edit
Michael Gambon's driving style causes him to nearly roll the car in the last corner of the test track. As a result, Clarkson renames the corner "Gambon's Corner". He set a time of 1:55 in the wet.