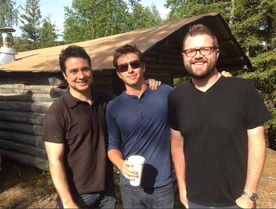 The
fourth season
of
Top Gear US
- the US adaptation of the BBC motoring show
Top Gear
- aired across 2013 and 2014 in two parts. Top Gear US's 4th season was confirmed via Adam Ferrara's twitter account when History began filming on the 30th of April 2013.
Tanner Foust
,
Rutledge Wood
, and
Adam Ferrara
 returned as hosts of the show. Top Gear USA's fourth series was the first season of the show to exceed 16 episodes in total, making it the longest total series of Top Gear USA in total. The first part of the fourth series of Top Gear USA premiered on the 3rd of September, 2013 with the second part airing from the 4th of June, 2014.
Official Statement
Edit
Part 1:
"Season four of Top Gear goes bigger and faster than ever before as Tanner, Rutledge and Adam continue their quest to test the world's most incredible vehicles in the most outrageous ways.  They race from New York to Los Angeles in exotic super cars, attempt an open-water crossing in home-made amphibious cars, test some of the most powerful American cars ever built, and travel alongside the Mississippi in the biggest cars the USA has ever produced.  They travel through remote Alaska in home-made convertibles, and a motorbike road trip to Sturgis proves that fewer wheels doesn't make Adam a better driver.  From a high-speed race among a jet boat, rally car and super-car to a review of the brand new Corvette Stingray, this season of Top Gear has got it all and more as our hosts go big or go home in the most action-packed season to date."
Part 2:
"The new episodes of TOP GEAR will take viewers on a wild ride from the backcountry of Arizona into the Grand Canyon, through the Appalachian Trail and even to the Autobahn in Germany for the ultimate high-speed road trip. Adam, Tanner and Rutledge never fail to stand up to every limit, no matter where they are in the world. The guys do everything from testing extreme ways to plow through snow, drag race in muscle cars at the Gatornationals and test how much abuse a car can withstand and still run. Even more exciting are the one-of-a-kind experiences, such as testing the most expensive and aggressive Camaro ever built, and racing the exclusive Bowler EXR-S street legal rally car against an enduro bike in the Scottish Highlands."
A total of twenty episodes aired as part of Top Gear US' fourth series:
First Part
Edit
Episode
Description
Winner (Loser)
Air Date
Coast to Coast
The presenters drive across the United States, from New York to Los Angeles, in three of the latest supercars, taking in a series of challenges along the way. The loser will have to end up paying the entire gas bill.
Ferrara

(Foust)

3rd September 2013
Alaskan Adventure
The presenters are challenged to each design and build the perfect convertible sports car for Alaska. They then test their creations on a journey from Anchorage to Homer.
Ferrara
10th September 2013
Off Road Racing
Tanner introduces Rutledge and Adam to the sport of rallying. After a day of practice the presenters challenge Tanner to an epic race against a boat, rally car, and Aston Martin Vanquish.
Ferrara
17th September 2013
America's Biggest Cars
The presenters each choose their favourite "big" American vehicle from the 70s and 60s and compete to see who chose the best whilst travelling along the Mississippi. The winner reviews the new Corvette Stingray.
Foust
24th September 2013
Sturgis
The presenters journey through South Dakota on bikes heading for the annual Sturgis Bike Week, taking in a series of challenges along the way. The losers of the challenges will have to complete a death-defying stunt while the winner gets to race the Ariel Atom.
Foust (Ferrara)
22nd October 2013
Can Cars Float?
The presenters of Top Gear USA set out to construct their own amphibious vehicles. After building their creations the presenters meet up to attempt a crossing of one of America's Great Lakes.
Wood
29th October 2013
Fully Charged
The presenters of head to Michigan to see which of three of the latest electric cars is the best. The overall winner of the challenges gets to drive the incredible new Tesla Model S.
Wood
5th November 2013
American Supercars
The presenters take a road trip in three American super cars in California. Along their journey they will take in a series of challenges, testing their cars against their closest European rival. The winner gets to drive the Mercedes SLS AMG Black.
Foust
12th November 2013
Big Bad Trucks
The presenters test three of the latest pick up trucks to see if any are both comfortable, easy to drive, and tough in a series of challenges. The tests culminate in an insane challenge - towing an airplane.
Foust
19th November 2013
Fountain of Youth
The presenters fight over the perfect car for a person having a mid-life crisis.
Wood
26th November 2013

Second Part Edit

American Muscle
The presenters head to Florida to test three resto-mod muscle cars, competing in a series of challenges involving an electrified steering wheel and many flies. The two winners will get to compete in a professional drag race at the Gaternationals. 
Foust and Wood
June 3, 2014
Desert Trailblazers
Tanner, Adam, and Rutledge travel to Arizona to test three of the newest and most technologically advanced 4x4's currently available. The presenters must navigate to the Grand Canyon, where they are to be picked up, without the use of GPS. 
Ferrara
June 10, 2014
80's Power

The presenters each pick their favourite budget 80's car and meet up for a series of challenges to determine who chose best. The winner will get to drive Ferrari's most astonishing car to date: the F12 Berlinetta. 

Foust
June 17, 2014
Snow Show
With a polar vortex ravaging Northern America the boys head to Maine and are challenged to convert a school bus into an effective snow plough, taking inspiration from real machines. The presenter whose modifications are deemed most useful gets to race a Nissan GTR against a snowmobiler. 
Foust
June 24, 2014
Off Road Big Rigs
Having already taken on the challenge of becoming professional truck drivers, the boys head to a remote Washington town to become logging truckers. Each picking an off-road truck, the presenters are challenged to transport as many logs as possible to the town in a day.
Foust and Ferrara
July 1, 2014
Cool Cars for Grownups
The presenters each select a car which they consider to be both practical and fun and put it through a series of challenges before embarking on a trecherous run up to Pike's Peak. 
Foust
July 8, 2014
What Can It Take
The presenters each select a car which they consider to be tough and reliable despite them removing the fan belt, power steering and body of the car. The presenter whose car proves to be most durable and reach civilisation first drives the fastest Rolls Royce ever: the Wraith.
Ferrara
September 30, 2014
Need for Speed
The presenters head to Germany for a road trip. Along the way Tanner, Adam, and Rutledge will have to choose cars from the Volkswagen group. They race along the autobahn and finally take on the twists and turns of the Nurburgring.
Wood
October 7, 2014
Weekend Race Cars
The presenters are challenged to find an everyday car that can race under every condition be it road, dirt or mud. After partaking in a series of challengs the winner will heads to Scotland to race the Bowler EXR-S against an Enduro Bike.
Foust
October 14, 2014
Appalachian Trail
The presenters are challenged to travel the length of the 23-hour road journey down the Appalachian Trial in just one day. To save time the presenters need to come up with ingenious solutions involving trains, mountains, and an unorthodox bathroom stop. 
Wood and Ferrara
October 21, 2014