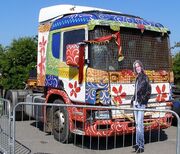 The Scania P94d was the HGV that James May drove during the lorry driving challenge (Series 12 Episode 1). The 'd' in the Scania's type meant that May' was the Day Cab series, and featured a 4 axle configuration; different to Hammond's and Clarkson's.
The Lorry driving challenges:
During the personalising of his lorry, James had livered his Scania in a friendly and flower look. Richard and Jeremy had considered this as the same as his shirts that he wears during Top Gear shows. The Scania had reached a dismal 64.6mph during the speed challenge, and hauled an enormous wedding cake that was destroyed. The last challenge involved May driving through 600 office water coolers at 56mph, that severely damaged the truck (see picture).

James later won the lorry driving challenge with +20 points, making the Scania P94d the best truck on the UK's HGV market.
Ad blocker interference detected!
Wikia is a free-to-use site that makes money from advertising. We have a modified experience for viewers using ad blockers

Wikia is not accessible if you've made further modifications. Remove the custom ad blocker rule(s) and the page will load as expected.