Sabine Schmitz
was born 14 May 1969), is a former -Professional driver for
BMW
.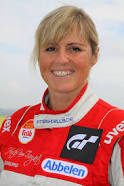 In 2004 she appeared in top gear in a Jaguar on her only turn using the same car, she beat Jeremy's lap time of 9 minutes 59 seconds by 45 seconds and claimed she could beat it in a van her second appearance on the show, she actually drove a Ford Transit van but could not beat the time. She won an award for best German driver.
She is the host of ashow that is similar to Top Gear which had a British German driving contest with was won by the Top Gear hosts.
She has also raced The Stig on a Jeremy Clarkson DVD super car showdown.
In February 11 2016, it was confirmed that Sabine would co-present Top Gear's twenty-third season along with Chris Evans, Matt LeBlanc, Chris Harris, Rory Reid, Eddie Jordan and The Stig.
Ad blocker interference detected!
Wikia is a free-to-use site that makes money from advertising. We have a modified experience for viewers using ad blockers

Wikia is not accessible if you've made further modifications. Remove the custom ad blocker rule(s) and the page will load as expected.