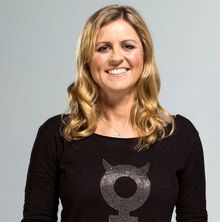 Sabine Schmitz is a German former-professional driver for BMW and a host of Top Gear.
Appearances on Top Gear
Edit
In 2004, before she was a host of the show, she appeared in an episode of the show's fifth season. In the episode, she tutored Clarkson on how to complete lap of Germany's Nurburgring. After Clarkson's lap, she claimed she could beat him in a Ford Transit van; she also completed a lap in the Jaguar that Clarkson had used for his lap, beating his time by more than forty seconds.
Schmitz made good on her bet in the sixth season, though she was unable to complete a lap of the Nurburgring in the van in under ten minutes.
Host of Top Gear
Edit
On February 11th 2016, it was confirmed that Sabine would co-present Top Gear's twenty-third season along with Chris Evans, Matt LeBlanc, Chris Harris, Rory Reid, Eddie Jordan and The Stig. She continued as host in the show's twenty-fourth series and will return for its twenty-fifth season in 2018.
She, along with Matt LeBlanc and Eddie Jordan, are the first non-British hosts of the show since its revival in 2002. Schmitz is German.
Ad blocker interference detected!
Wikia is a free-to-use site that makes money from advertising. We have a modified experience for viewers using ad blockers

Wikia is not accessible if you've made further modifications. Remove the custom ad blocker rule(s) and the page will load as expected.